Lorafix Loratadine Tablets (Generic of Claratyne)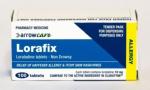 Active Ingredients
Each tablet contains Loratadine 10mg (the same active ingredient as Claratyne).
Product Description
Lorafix tablets provide rapid 24 hour relief from the symptoms of hayfever and allergic skin disorders including hives.
Lorafix provides rapid relief from:
Sneezing
Itchy skin rash
Watery, itchy eyes
Runny nose
Hives
Directions For Use
Adults and Children over 12 years: One tablet daily
Children 2 to 12 years with a body weight over 30kg: One tablet daily
Body weight under 30kg: Half a tablet daily
Warnings & Cautions
Lorafix is unlikely to make you feel drowsy. But if you are drowsy, do not drive a car or work with machinery.
Seek medical advice before using during pregnancy or breastfeeding.
If condition persists, consult your doctor or pharmacist.
Use only if the foil is intact.
Store below 25°C
Gluten, sugar and lactose free.
Actavis New Zealand Ltd, Auckland, New Zealand.