GO Healthy Go Lypo-C Vitamin C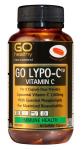 Product Description
Go Lypo-C Vitamin C provides bioavailability advantages over traditional Vitamin C supplements. Liposomal Vitamin C utilizes latest technology to encapsulate the Vitamin C molecules in liposomes, made from essential phospholipids. This innovative technology helps to protect the Vitamin C, while the phospholipids are easily absorbed by your cells, increasing bioavailability, transporting it directly into the bloodstream and into your cells. This superior absorption offers powerful antioxidant protection, plus enhances the immune benefits that Vitamin C can offer.
Active Ingredients
Each SoftGel Capsule contains:
Vitamin C (as Ascorbic Acid) 500mg
Lecithin (providing essential Phospholipids) 550mg
Contains NO added: gluten, corn, dairy, egg or artificial flavours or preservatives.
Directions
Adults: Take 2 SoftGel Capsules daily. Best taken on an empty stomach. Or as directed by your Healthcare Professional.
Warnings & Cautions
Keep out of reach of children.
If pregnant or breastfeeding consult your Healthcare Professional prior to taking.
Medicine Interactions: If taking prescription medication or if in doubt consult your Healthcare Professional.
Always read the label and take only as directed.
Take in conjunction with a healthy balanced diet.
Store below 30 degrees celsius.
GO Healthy New Zealand, 71 Nelson Street, Petone, Lower Hutt 5012, Wellington, New Zealand.
No prices listed for this product.