MUHLE Porcelain Blade Bank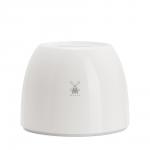 Product Description
The MÜHLE blade bank is made of white porcelain & disposes of blades stylishly and safely. Used razor blades can be collected in the porcelain bowl for years without posing an injury risk. 80mm x 67mm.
Warnings & Cautions
Keep out of reach of children.
Do not open once in use.
Hans-Jürgen Müller GmbH & Co KG, 08328 Stützengrün, Germany
No prices listed for this product.