Ferrograd Iron Tablets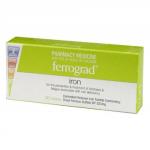 Active Ingredients
Each controlled release iron tablet contains Dried Ferrous Sulfate BP 325mg
Product Description
Ferrograd tablets are controlled release iron tablets which help with the prevention & treatment of tiredness & fatigue associated with iron deficiency. Because they gradually release the necessary amount of iron, they are gentle on the stomach.
Directions For Use
Adult dose: One tablet daily or as directed by your physician. Can be taken on an empty stomach or after a meal. Tablets should be swallowed whole, not crushed or chewed.
Warnings & Cautions
Keep out of reach of children.
Iron supplements should not be taken for more than 12 months without consulting your healthcare professional.
Vitamin supplements should not replace a balanced meal.
Contains lactose.
Free from gluten and sucrose.
Store below 25°C.
Distributed in New Zealand by Abbott Laboratories NZ Ltd., 4 Pacific Rise, Mt Wellington, Auckland.
No prices listed for this product.