Nutra-Life Ultra Move Joint CareTablets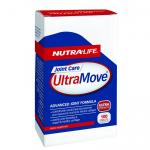 Product Description
Nutra-Life Ultra Move Joint Care Tablets are an advanced joint formula containing scientifically researched Glucosamine Sulfate plus Hyaluronic Acid and New Zealand Marine Collagen to assist joint flexibility and support healthy cartilage.
Taken regularly, Ultra Move can help to support joint flexibility and mobility, assist joint lubrication and cushioning, and provide building blocks to help strengthen cartilage and connective tissues.
MADE IN NEW ZEALAND.
Active Ingredients
Glucosamine sulfate-potassium chloride complex 995mg (equiv. Glucosamine sulfate 750mg)
Collagen - hydrolysed 100mg
Hyaluronic acid 50mg
Vitamin D3 100IU (Cholecalciferol 2.5mcg)
Zinc (as gluconate) 2mg
Manganese (as sulfate) 1mg
Boron (as borax) 500mcg
Copper (as gluconate) 166mcg
Selenium (as selenomethionine) 12.5mcg
Directions For Use
Adults: Take 2 tablets daily with food. Some people may reduce this to 1 tablet daily after 3 months for maintenance.
Warnings & Cautions
Keep out of reach of children.
Contains 128mg of potassium per tablet.
If you have kidney disease or are taking heart or blood pressure medicines, consult your healthcare professional before use.
This product contains selenium which is toxic in high doses. For adults, 150mcg of selenium from dietary supplements should not be exceeded.
This product is derived from seafood.
Store below 30°C
Vitaco Health (NZ) Ltd., Corner Kordel Place & Accent Drive, East Tamaki, Auckland, New Zealand.
No prices listed for this product.