Avomine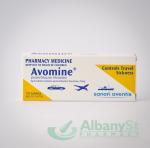 Active Ingredients
Promethazine Theoclate 2mg
Inactive Ingredients
Contains lactose and gluten.
Product Description
Avomine for the prevention of travel sickness when travelling by car, plane, ship, train or bus.
Directions
Adults: 1 tablet. Children over 10 years: 1 tablet. Children 5-10 years: half a tablet. Children 3-5 years: quarter of a tablet. The first dose should preferrably be taken the night before starting the journey or at least 1-2 hours before departure. Further doses may be taken each night during the period of travel.
Warnings and Cautions
Keep out of reach of children.
Do not take during pregnancy without medical advice.
This medication may cause drowsiness. If affected do not drive a vehicle or operate machinery.
Avoid alcohol.
Store below 30°C. Protect from light.
Please note that we apply a limit of 10 tabs per month for this product.
Distributed by: Aventis Pharma Limited, Auckland.
No prices listed for this product.