Thompsons Lysine Lip Clear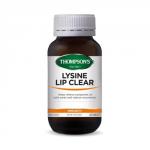 Product Description
Thompson's Lysine Lip Clear helps relieve symptoms of cold sores and reduce recurrence. It helps maintain healthy immune system function and general wellbeing and provides antioxidants which help protect cells from free radical damage. It helps support healthy skin, healthy collagen formation and wound healing.
Active Ingredients
Each tablet contains:
Lysine Hydrochloride 625mg, equiv. Lysine 500mg
Ascorbic Acid (Vitamin C) 200mg
Zinc (as Gluconate) 5mg
Citrus Bioflavonoids extract 200mg
Directions
Adults: Risk Reduction dose: Take two to three tablets daily (with food), or as professionally prescribed.
Management of symptoms dose: Take one tablet three times daily (with food), or as professionally prescribed.
Warnings & Cautions
Keep out of reach of children.
If symptoms persist, consult your Healthcare Professional.
Vitamin supplements should not replace a balanced diet.
Always read the label and take only as directed.
Store below 30 degrees celsius.
Integria Healthcare (New Zealand) Ltd.
No prices listed for this product.