Bonjela Mouth Ulcer Gel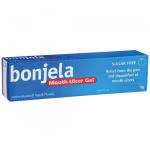 Active Ingredients
Choline salicylate 87mg/g (8.7% w/w).
Inactive Ingredients
Contains alcohol and saccharin. Contains cetalkonium chloride as a preservative.
Product Description
Bonjela is a pleasant tasting gel that provides fast-acting, soothing relief from the pain and discomfort of mouth ulcers and sores, dentures and teething pain.
Directions For Use
Wash your hands, apply enough Bonjela to cover the tip of the index finger (about a pea-sized amount) and massage into the affected area. This can be repeated after 3 hours if necessary. Do not apply more often than once every 3 hours. No more than 6 doses should be given in 24 hours.
Warnings & Cautions
This preparation is for the relief of minor and temporary ailments and should be used strictly as directed.
Prolonged use without medical supervision could be harmful.
Do not exceed the recommended dose.
If symptoms persist seek medical or dental advice.
Unless a doctor has told you to, do not use Bonjela in children under 16 years of age with or recovering from chickenpox, influenza or fever.
Not suitable for babies under 4 months.
Keep out of reach of children.
Reckitt Benckiser.
No prices listed for this product.