Le Tan Coconut Spray Sunscreen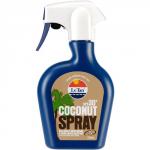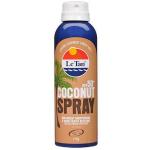 Product Description
Le Tan Coconut Spray Sunscreen is a light, non-greasy, moisturising sunscreen with a delicious coconut fragrance. This very high protection sunscreen provides broad spectrum protection again premature skin-ageing UVA and burning UVB rays, is 4 hours water resistant and PABA free. Available in a spray bottle or aerosol can.
Directions For Use
Spray liberally onto clean, dry skin and rub evenly at least 20 minutes prior to sun exposure. Reapply every 1-2 hours or after exercise, swimming or towel drying.
Warnings & Cautions
Avoid prolonged exposure to the sun. Always wear a hat, protective clothing and sunglasses.
If rash or irritation occurs, discontinue use & seek medical advice.
For external use only. Avoid contact with eyes.
Keep out of reach of children.
Do not expose babies less than 6 months old to the sun.
Brands RMJ Pty Ltd.
No prices listed for this product.