Brolene Eye Drops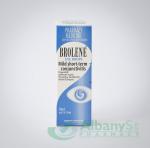 Active Ingredients
Propamidine Isethionate 0.1% w/w.
Inactive Ingredients
Benzalkonium ChloridenSolution BP 0.01% w/v, Ammomium Chloride, Sodium Chloride.
Product Description
Brolene Eye Drops are an effective treatment for minor eye infections and eyelid irritations in both adults and children (including mild cases of conjunctivitis).
Dosage
Place 1-2 drops in your eye up to four times daily
Warnings and Cautions
Do not use Brolene while wearing hard or soft contact lenses.
Make certain you can see clearly before driving or operating machinery.
Do not use Brolene if you are allergic to the ingredients
If you develop a rash, have itchiness or they become redder consult your doctor.
If you are pregnant or breast-feeding do not use Brolene unless advised to do so by your doctor.
If there is no improvement after 2 days consult your doctor.
Brolene Eye Drops are for external use only. Store below 25°C/75°F. Protect from direct sunlight.
Discard 4 weeks after opening
Brolene is a registered trademark of Sanofi-Aventis.
No prices listed for this product.