Canesten Once Daily Bifonazole Body Cream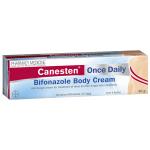 Active Ingredients
Bifonazole 10mg/g.
Product Description
This is a broad spectrum antifungal cream that provides effective treatment for fungal skin conditions such as ringworm, jock itch, yeast infections of the skin, tinea and athlete's foot with one single daily application.
Directions For Use
Clean and dry the affected area thoroughly. Rub sparingly into the affected area once daily. Continue treatment for 2 weeks after symptoms disappear to avoid recurrence.
Warnings & Cautions
Keep out of reach of children.
For external use only. Do not use in the eyes.
Not recommended for use on babies except under medical supervision.
Consult your pharmacist or doctor for advice before treating yourself if you are pregnant or breastfeeding.
Bayer New Zealand Ltd.
No prices listed for this product.