Good Health Viralex Attack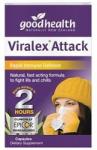 Product Description
Viralex Attack is a rapid immune response to challenges towards the body's immune system. The unique ingredient EpiCor starts working in two hours and along with other key ingredients; Olive leaf, Pelargonium root and Zinc, supports the body's natural immune defences for optimal health and wellbeing.
Active Ingredients
Each capsule contains:
Olea europaea (Olive) leaf 2700mg (Equiv. Oleuropein 60mg)
Pelargonium sidoides (Umckaloabo) root 90mg
Epicor (Dried fermentate made usuing Saccharomyces cerevisiae) 250mg
Zinc (as Amino Acid Chelate) 5mg
No artifical flavours, sweeteners or colours used in this product. No added gluten, egg, dairy or wheat.
Directions
Adults:Take 2 capsules daily with food. For acute onset, take upto 3 capsules daily with food.
Children:Take 1 capsule daily with food.
Warnings & Cautions
Not recommended during pregnancy or breast feeding.
Do not use if blister seal is broken.
Store below 30 degrees celsius.
Good Health Products Ltd, New Zealand